The Comfy Teddy Bear Quarter-Zip
The Comfy Teddy Bear Quarter-Zip
Regular price
$54.99
Sale price
$49.99
Unit price
per
Size Chart
This is our biggest, fluffiest, and maybe most fun version of The Comfy® wearable blanket yet—you might even be mistaken for a teddy bear! The Comfy Teddy Bear
Quarter-Zip wearable blanket is an oversized ball of softness that will keep you warm and smiling no matter where you are or what you're doing. Luscious, high-quality sherpa makes you feel like you're being hugged by a cloud, while the quarter-zip gives you the flexibility to control just how warm you want to be. Put one on, and start living #TheComfyLife!
™

Details

It's The Original: When you buy The Comfy, you're getting the wearable blanket that made wearable blankets a thing! In fact, if you don't see our embroidered logo on the ginormous pocket, and The Comfy Panda on the zip, it's not a Comfy.
Oversized Everything: It's giant, and it's supposed to be! We started with a men's 5XL and have only gone bigger from there. The high-low hem also means it's longer in the back for extra comfort—and style.
Quarter-Zip: The quarter-zip makes getting it on and off a breeze and allows you to control your temperature.
Huge Plush Hood: Keeps your head cozy and can even double as a pillow.
Ginormous Pocket: The Marsupial™ pocket—with its giant size and unique shape—keeps your hands warm and can store all your essentials. (Snacks, phone, pets—you name it!)
Ribbed Cuffs and Oversized Sleeves: Roll 'em up and they stay up! Plus, our oversized sleeves are designed so you can easily pull your arms in to cover yourself completely. Did someone say total coziness?
Material: 100% premium fluffy sherpa. 100% polyester.
Care-Free Wash: Toss in the wash and tumble dry on low—it comes out like new.
Sizing:

One Size for men, women and even kids

! Top to bottom it's 38" in the front, and 42.5" in the back.
Recyclable Packaging: Every Comfy product comes in packaging that is 100% recyclable.
Shipping Policy: Free Shipping on orders $100+. Excludes Alaska and Hawaii For more info on shipping, visit our FAQ page.
Return Policy: If needing to return anything, you're welcome to do so within 100 days of receiving items. For more info on our return policy, visit our FAQ page.
View full details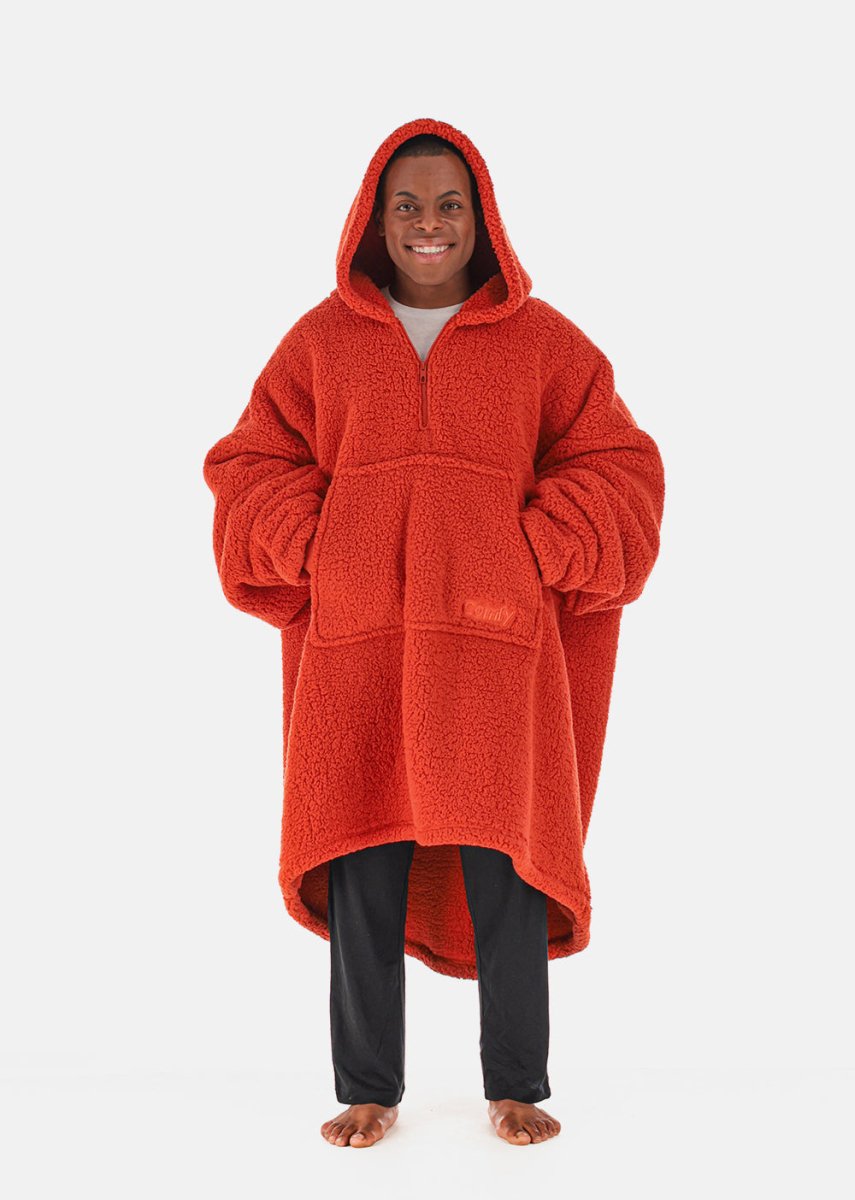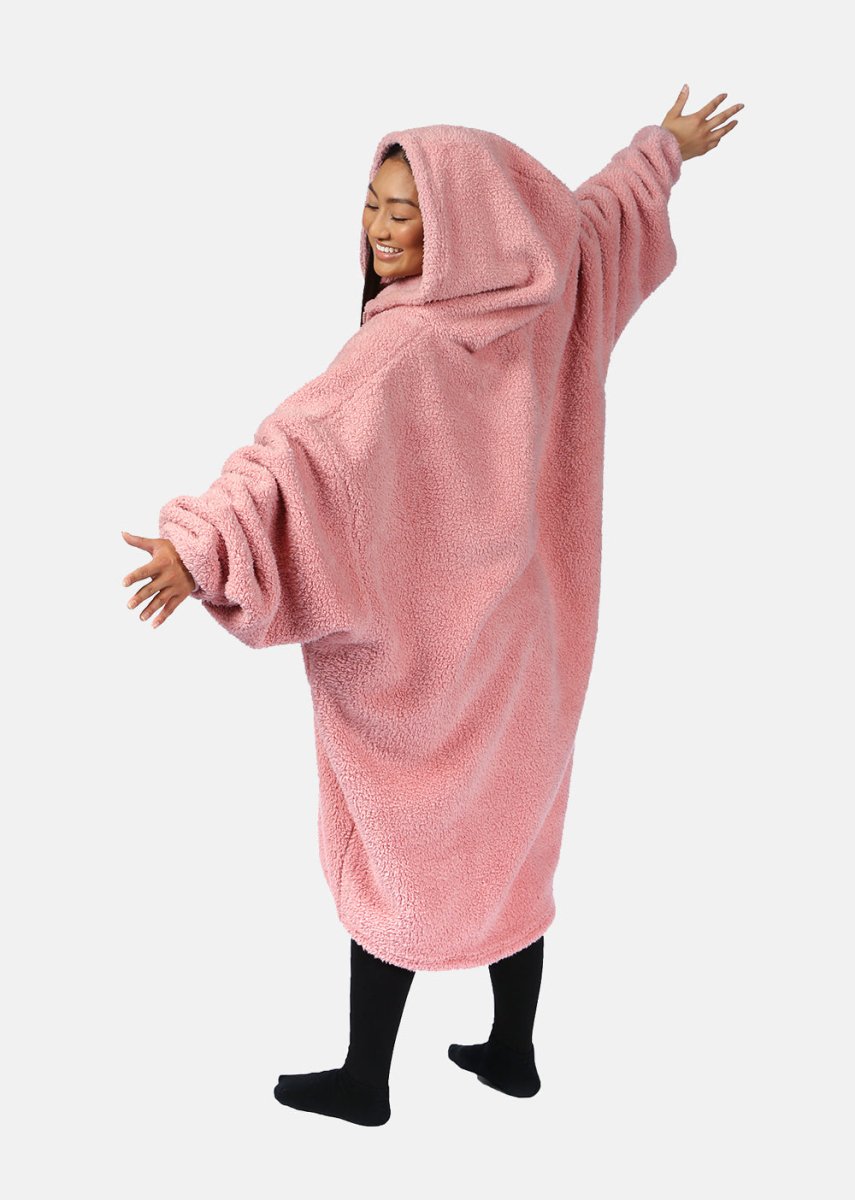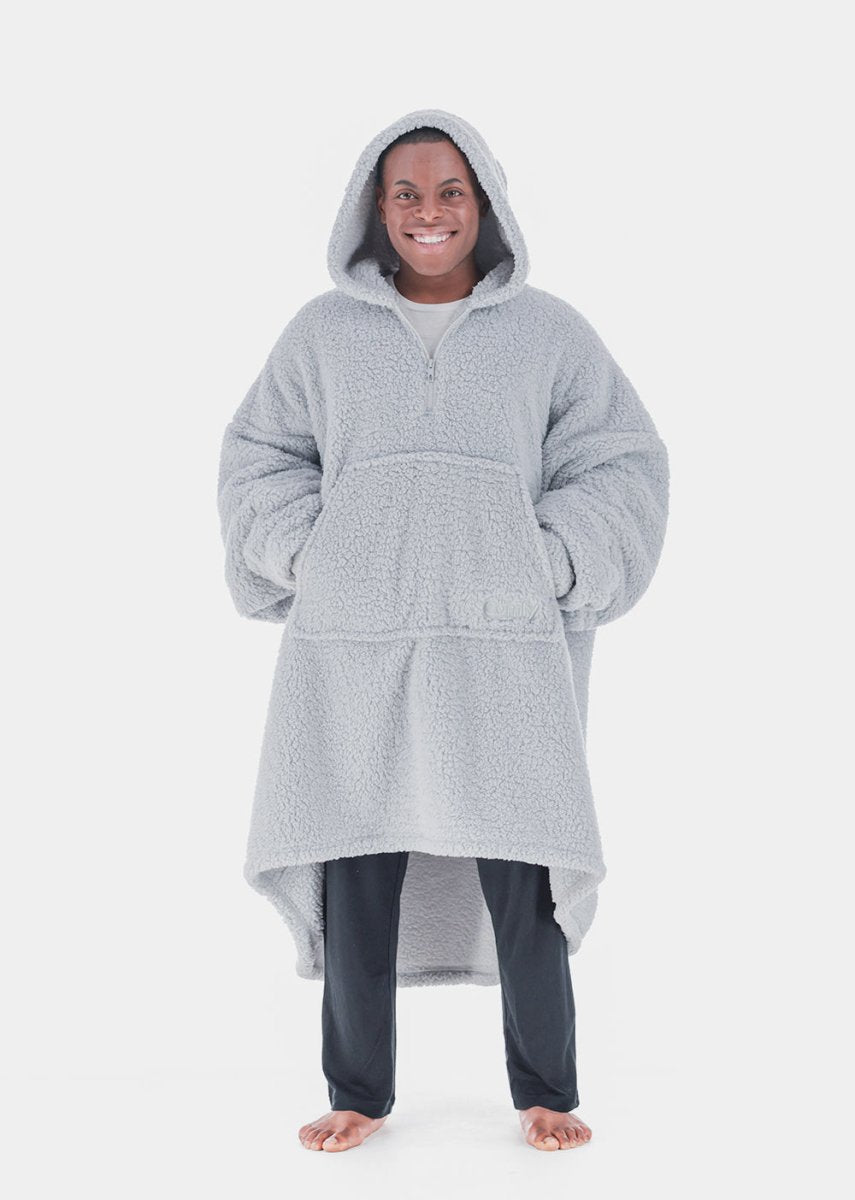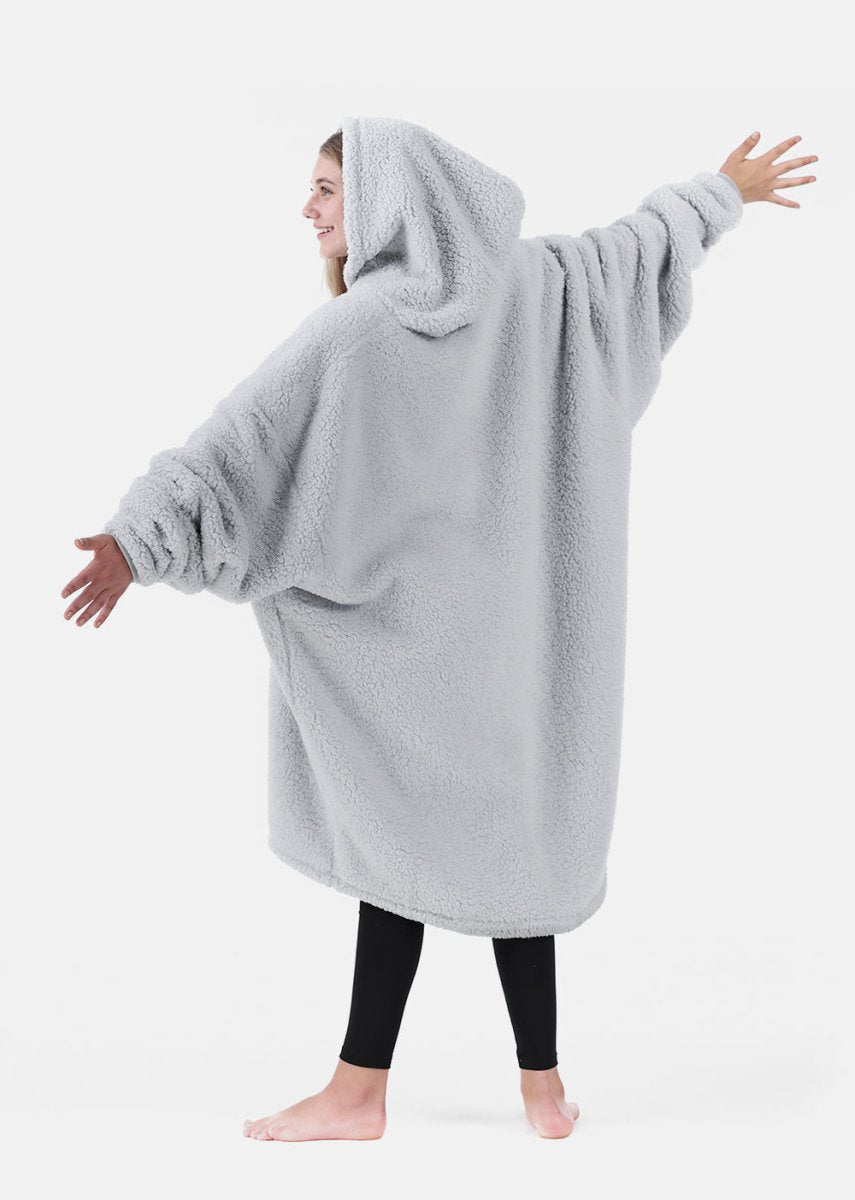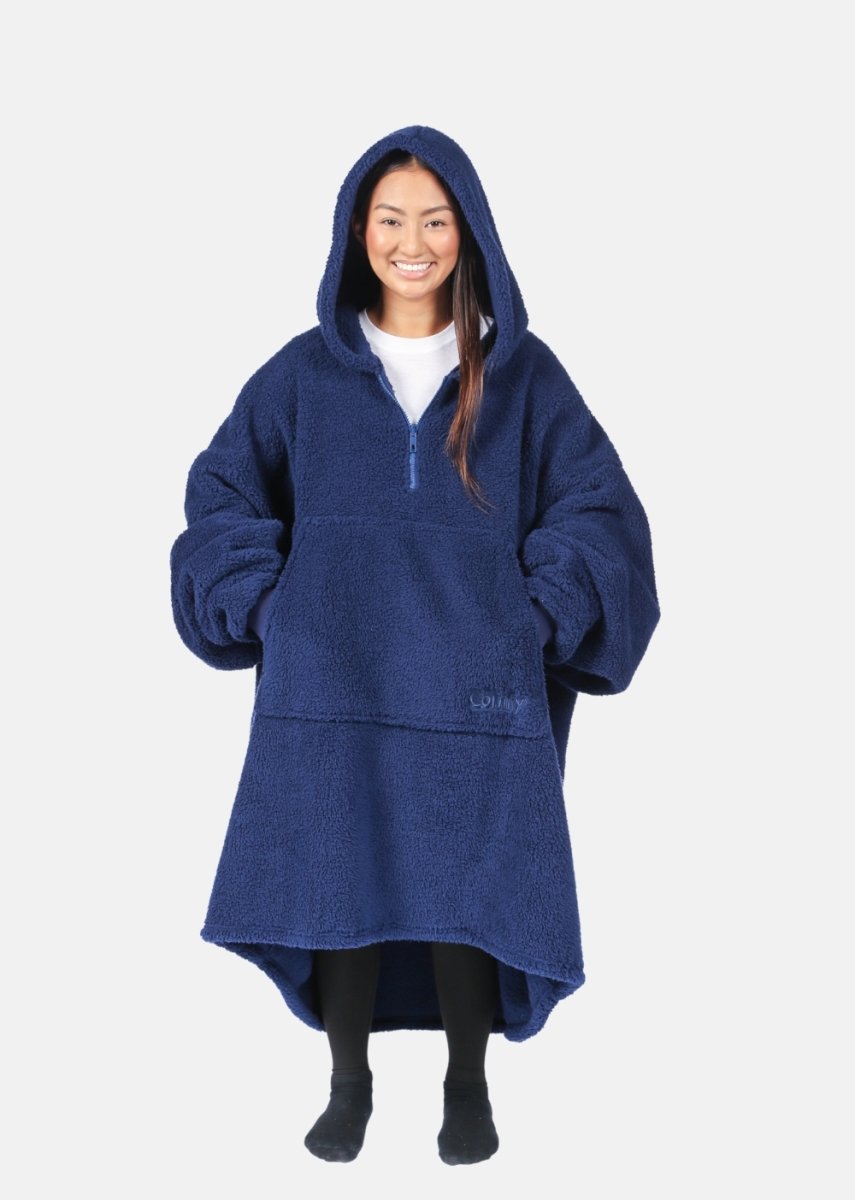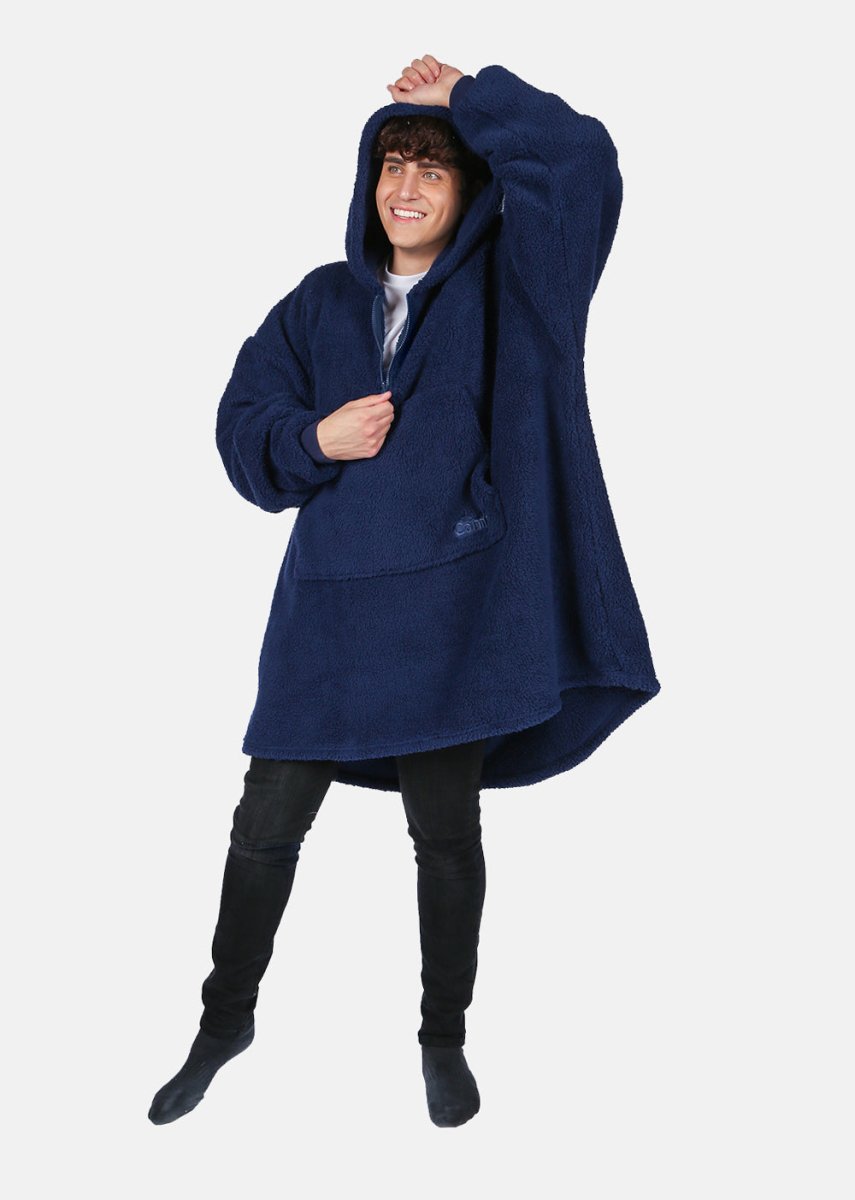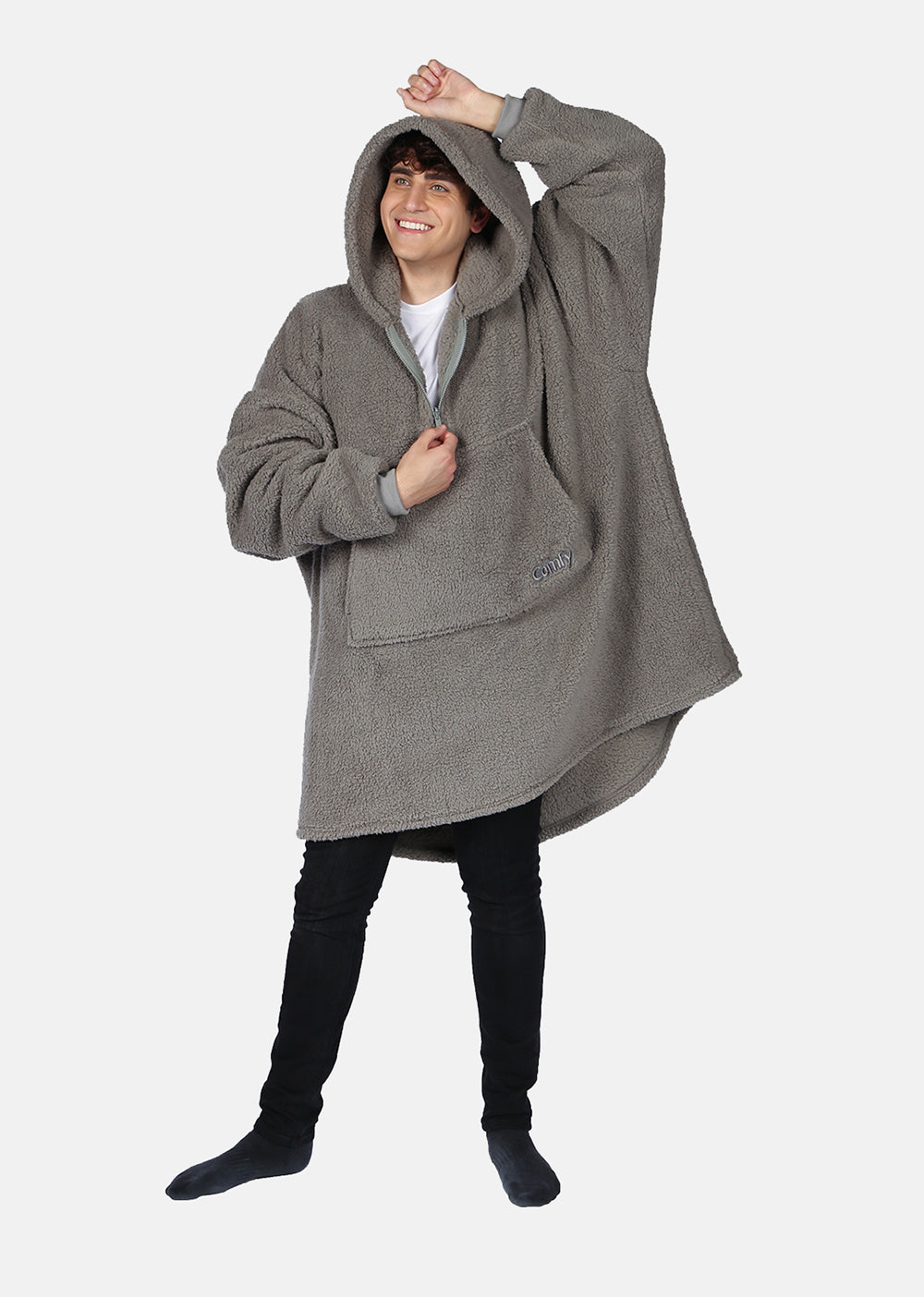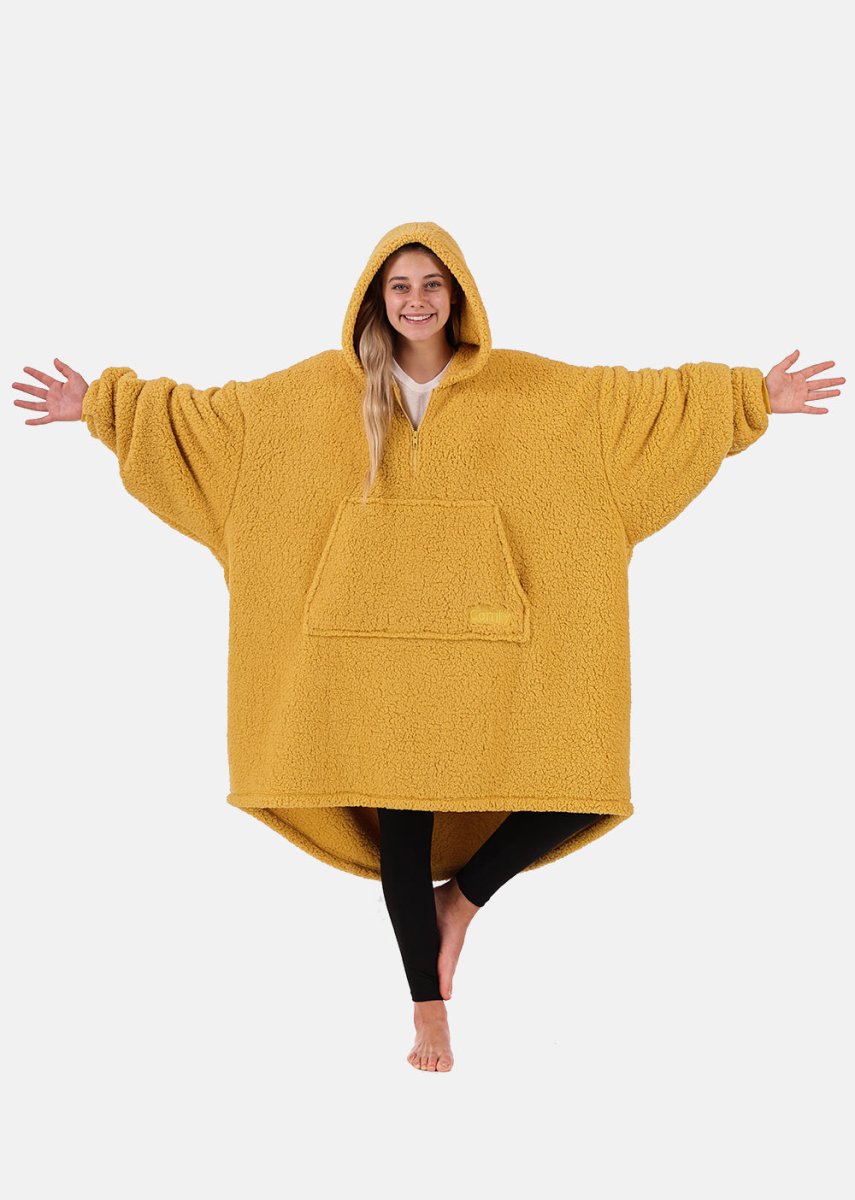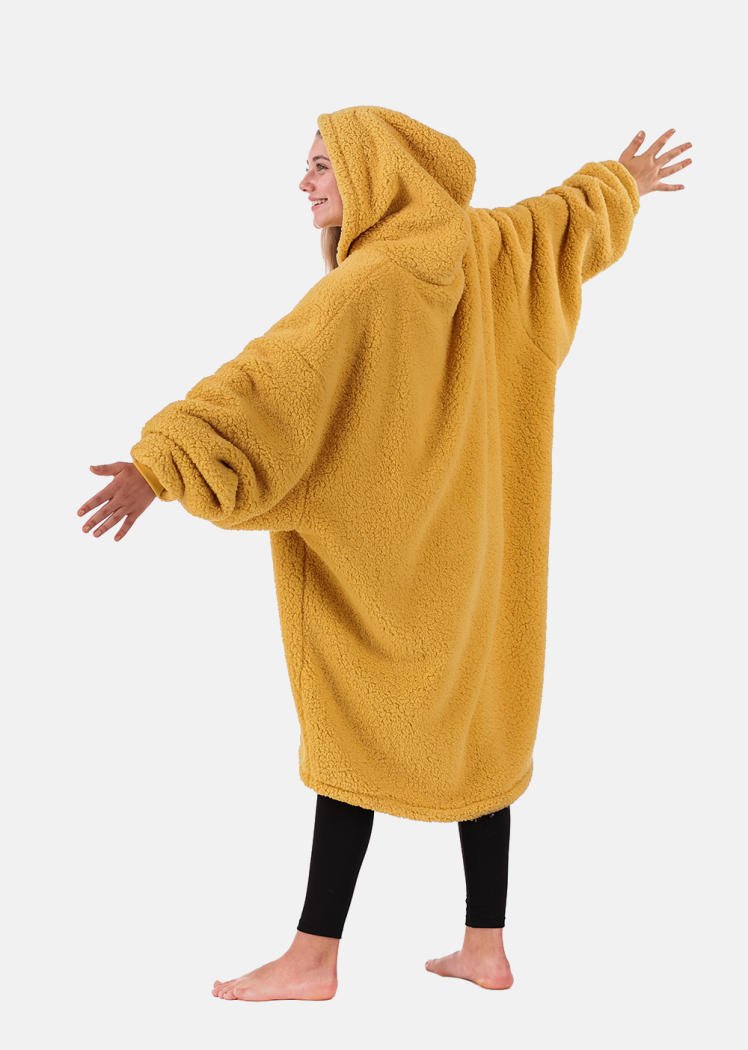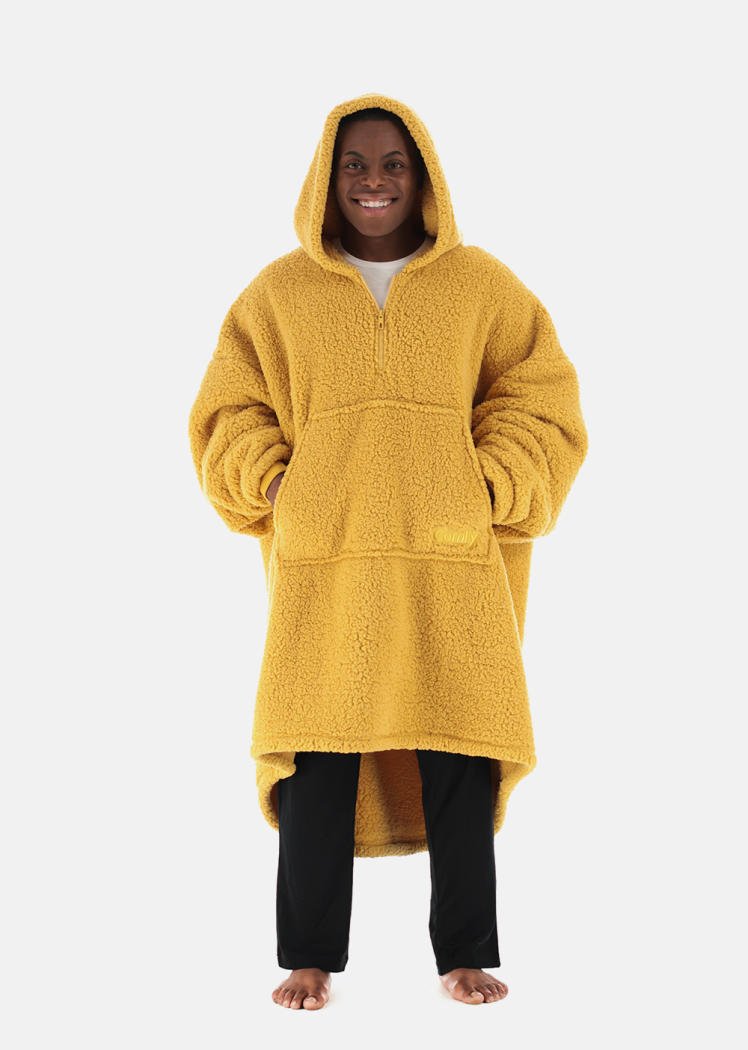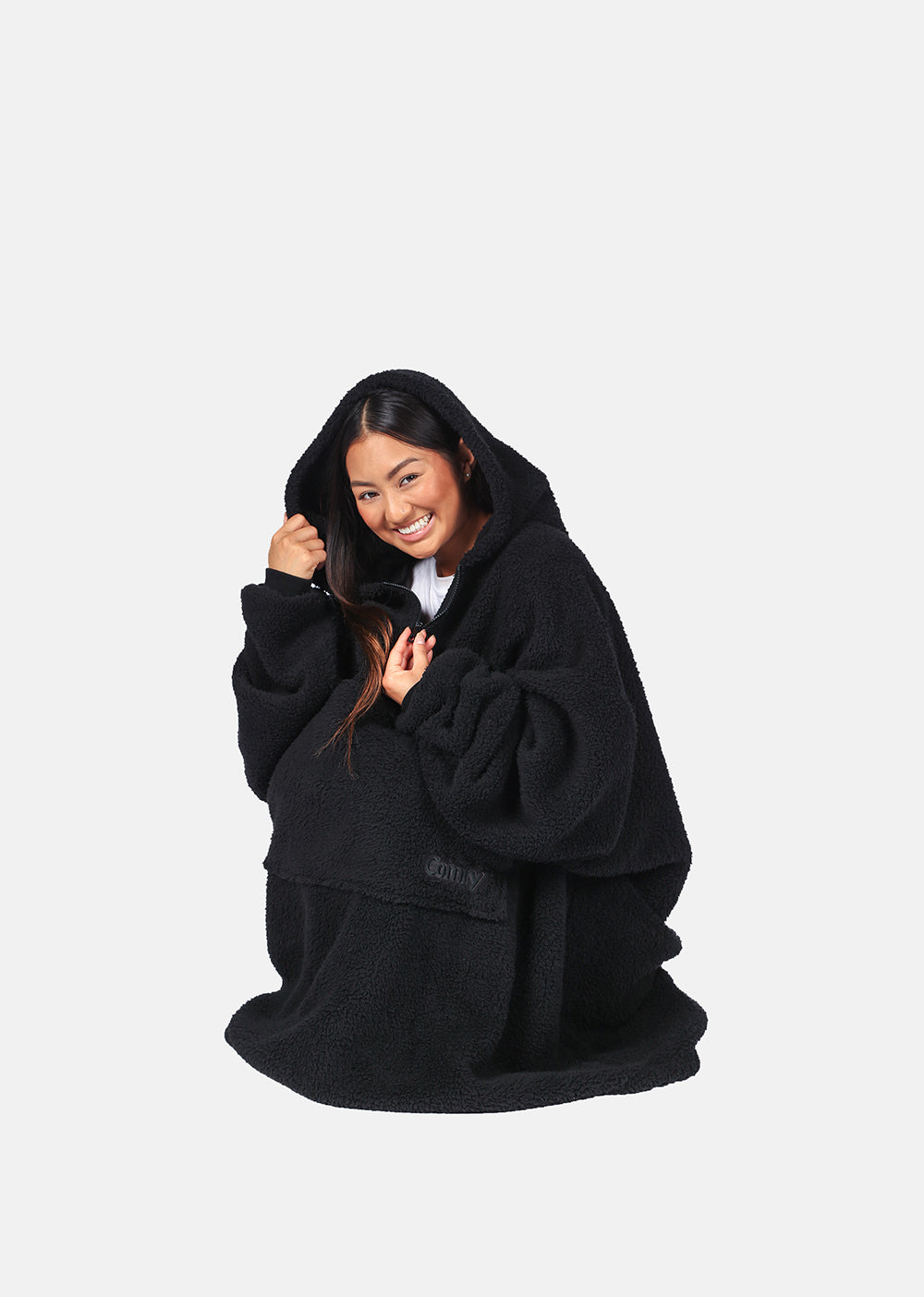 The Comfy Teddy Bear Quarter-Zip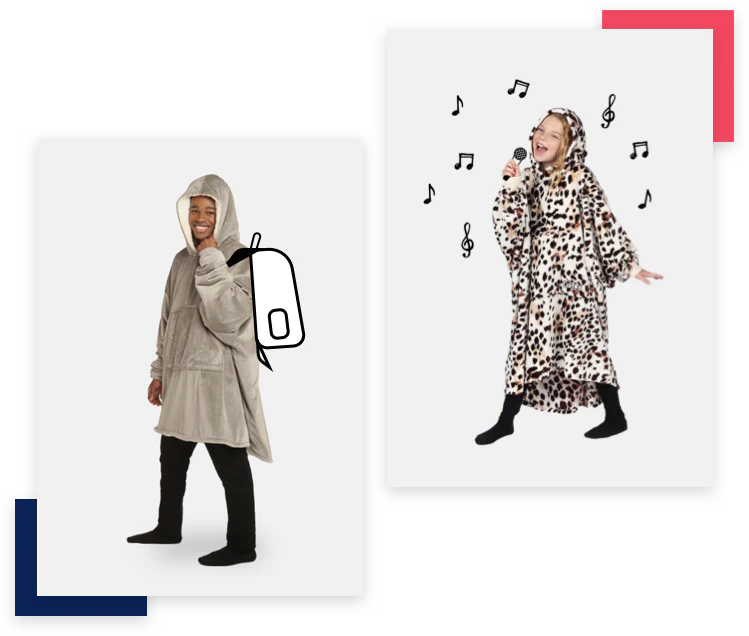 Ginormously Awesome
One size fits all. Just pick a color and start Living #TheComfyLife!™
Baby Blanket Soft
Slip it on, and Feel The Happy!™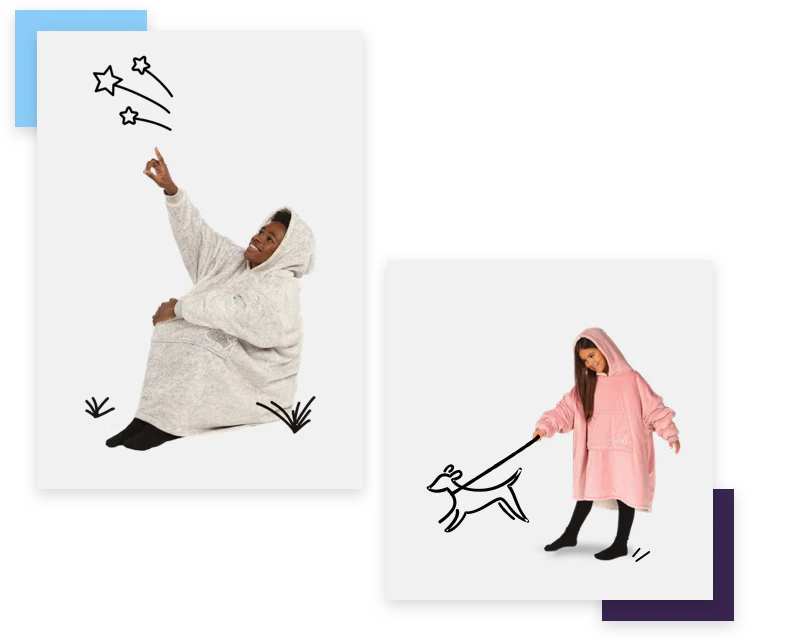 The Original
We created the world's first wearable blanket-and it's made to last.